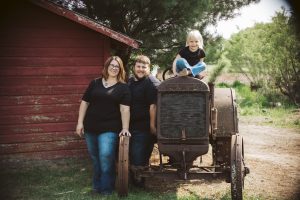 Shawn was raised on the northern Minnesota's Iron Range. He grew up helping at his neighbor's farm where he developed a love for cows, especially the Scottish Highlanders. In 2011 he purchased equipment and started his farm journey with haying. In 2012 Shawn started his own fold of grass fed Highland cattle. Over the years with much research and observations he has slowly build his mixed herd of Highland, Galloway, and Angus genetics to take advantage of the different breed qualities and provide a superior product to his customers.
Shawn has always been a big supporter of grass-fed/grass-finished cattle as this is the natural diet of the animal. He practices a rotational grazing system on the farm and has planted fields full of diversity for the animals and environment.
Shawn works full-time off the farm as a mechanic. Shawn is a very valuable asset on the farm. He is good with his hands, a strong problem solver, and has an amazing ability to stay patient when things do not go as planned. Shawn loves his animals and practices good husbandry skills.
Stacie was raised at the current farm until she was six years old and then her family moved to a larger farm in North Branch, MN. She has always had a love for farming especially the community that surrounded agriculture but she did not always agree with the "big ag" practices. She prefers life to be lead more simplistic and holistic in general and that carries over into farming. Stacie is very passionate about raising high quality, nutritious food naturally.
Stacie has been a massage therapist for almost 20 years and studied many modalities in bodywork and natural health. She enjoys thinking outside the box and incorporating holistic ways with her family and farm.
Mila is a country rooted girl living in the city. She grew up in the country with lots of animals to love and green grass under her feet. 
Mattie is the little farm girl you will see in many pictures. She thinks she is the "farm manager" and is a great companion while doing chores or farm projects. She has a great love for the animals and is not afraid to get dirty. Most days she is found outside with a dress on and her tall muck boots. She has seen and learned a lot at her young age while on the farm. She may make you laugh while sharing her adventures.